The Trustees of  The Sir Denis Mahon Foundation
have the great pleasure to announce that the Winner of
THE SIR DENIS MAHON AWARD at the Royal Drawing School is KEZIAH PHILIPPS.

THE SIR DENIS MAHON FOUNDATION was created by Sir Denis in his lifetime.
It aims to continue his philanthropic work, his art historical research and his passionate promotion of young scholars.
It promotes his art collection and lifelong work and studies to the general public, organises exhibitions, supports museums, and also endows three annual prizes for young scholars and artists, the Sir Denis Mahon Essay Prize, the Mahon Award, a drawing prize at The Royal Drawing School, and the Sir Denis Mahon Sculptural Project Grant in collaboration with City & Guilds of London Art School.
Guercino at the Villa Ludovisi
Sir Denis Mahon's pre-eminent scholarship on Guercino has been enhanced by the publication of a special edition of the journal, Storia dell'Arte, focussing on the artist's work at the Villa Ludovisi in Rome. Coordinated by Daniele Benati, Barbara Ghelfi and Raffaella Morselli, alongside the Universities of Bologna and Teramo, the edition brings together important new avenues of research, featuring startling revelations on the historical and material aspects of Guercino's work for the Ludovisi family.
The edition is introduced by an appraisal of the works by Alessandro Zuccari, which acts as a preamble to new research. The study reveals the results of new technical imaging, and presents an investigation into the history of Guercino's undertaking of these works, as they relate to his encounters with other artists at the time.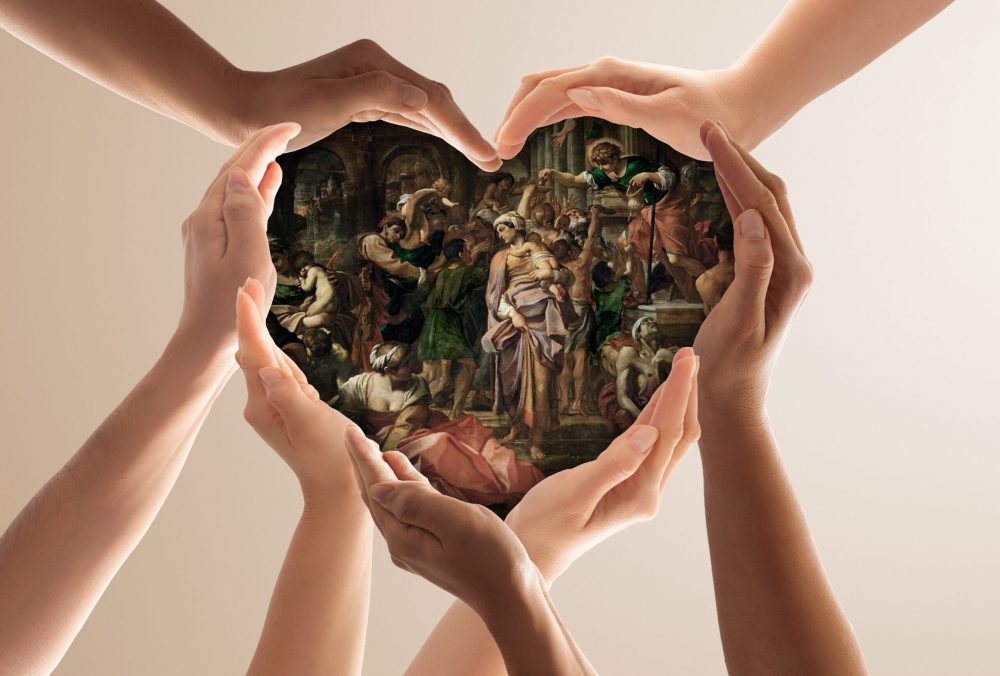 In the picture: a graphic composition by the artist Leonardo Passeri (born 1982) showing a detail of "Saint Roch giving Alms" by Annibale Carracci (1587-1595) in the collection of the Gemäldegalerie Alte Meister in Dresden, Germany.
Please consider making a one-off donation to The Sir Denis Mahon Foundation and its activities.
We are a registered charity and all donations, of whatever size, would directly support our educational and exhibition programmes.
See here.