SIR DENIS MAHON SCULPTURAL PROJECT GRANT AT
CITY & GUILDS OF LONDON ART SCHOOL
This grant has been created to honour the memory of Sir Denis Mahon and to continue his legacy and lifelong interests in fine art, carving and conservation. Indeed, Sir Denis spent many hours with the students of the Accademia di Belle Arti (Conservation) discussing their works, particularly the conservation of concrete and stone animals.
This £5,000 annual grant (for 3 years) has been created to support a student in their final year of study at City & Guilds of London Art School to realise a sculpture project, which will encourage the students to be ambitious in their work, regardless of financial circumstances. It is open to submissions annually from second year BA students of Conservation, Carving and Fine Art working with sculpture for use in their final year. They are invited to submit their applications (which should reflect Sir Denis' studies, research and interests) to the Art School for the Grant and between one and three students will then be selected for recommendation to the Sir Denis Mahon Foundation for consideration.
The artists who have so far received the Grant are :
• 2023-24 Alexander Wheeldon, Leigh-ann Cousins
•  2022-23 Emma Sheridan, Alfie Biro Sidford, Savannah du Quercy
•  2021-22 Morgan Edwards, Robert Heffernan, Imogen Long
•  2020-21 Roisin Francis, Dan Russell, Johannes Wagenknecht
In 2023-24, the Grant has been awarded to two particularly strong candidates, who will share the £5,000 grant: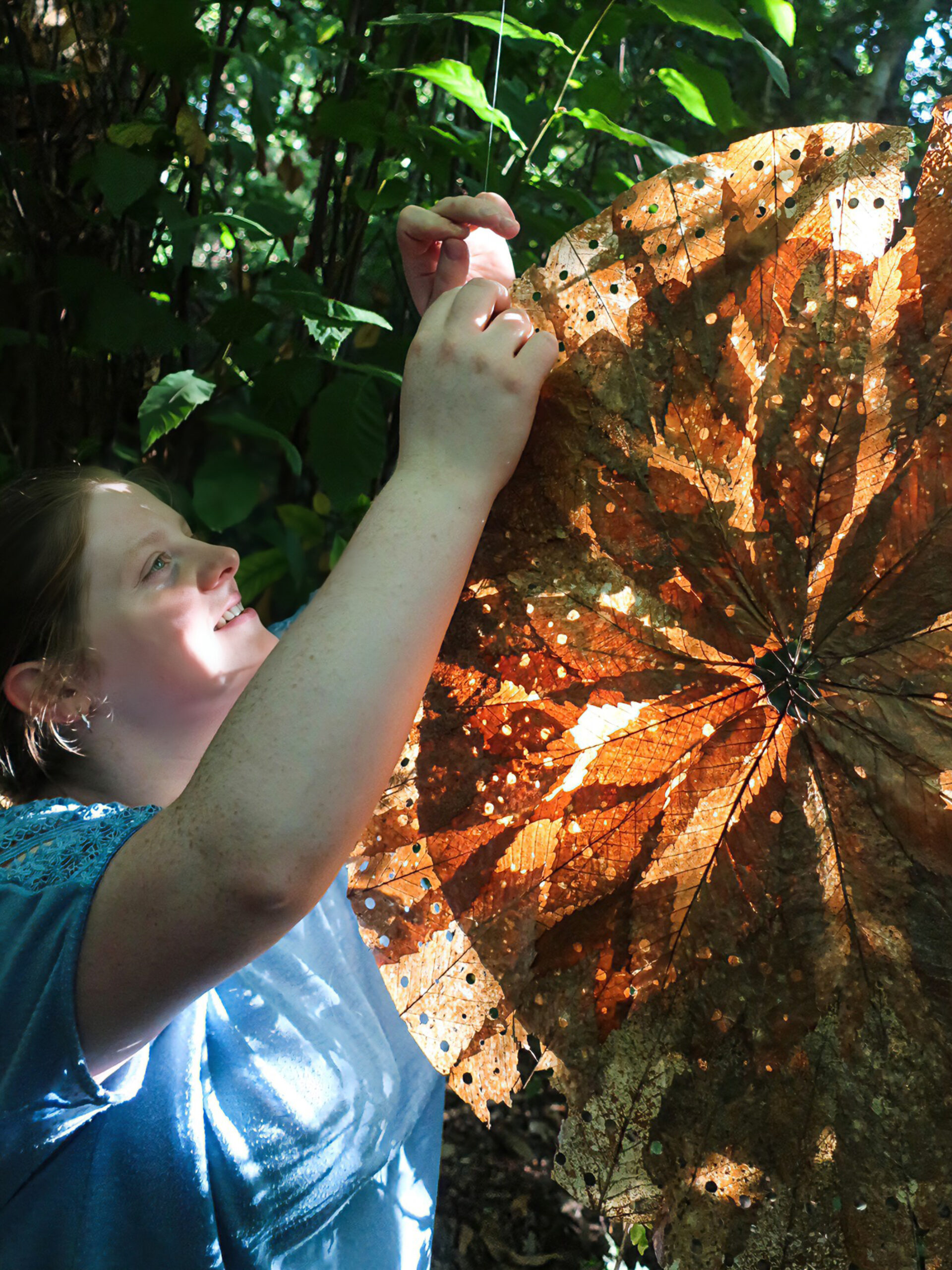 LEIGH-ANN COUSINS
Third year, BA Fine Art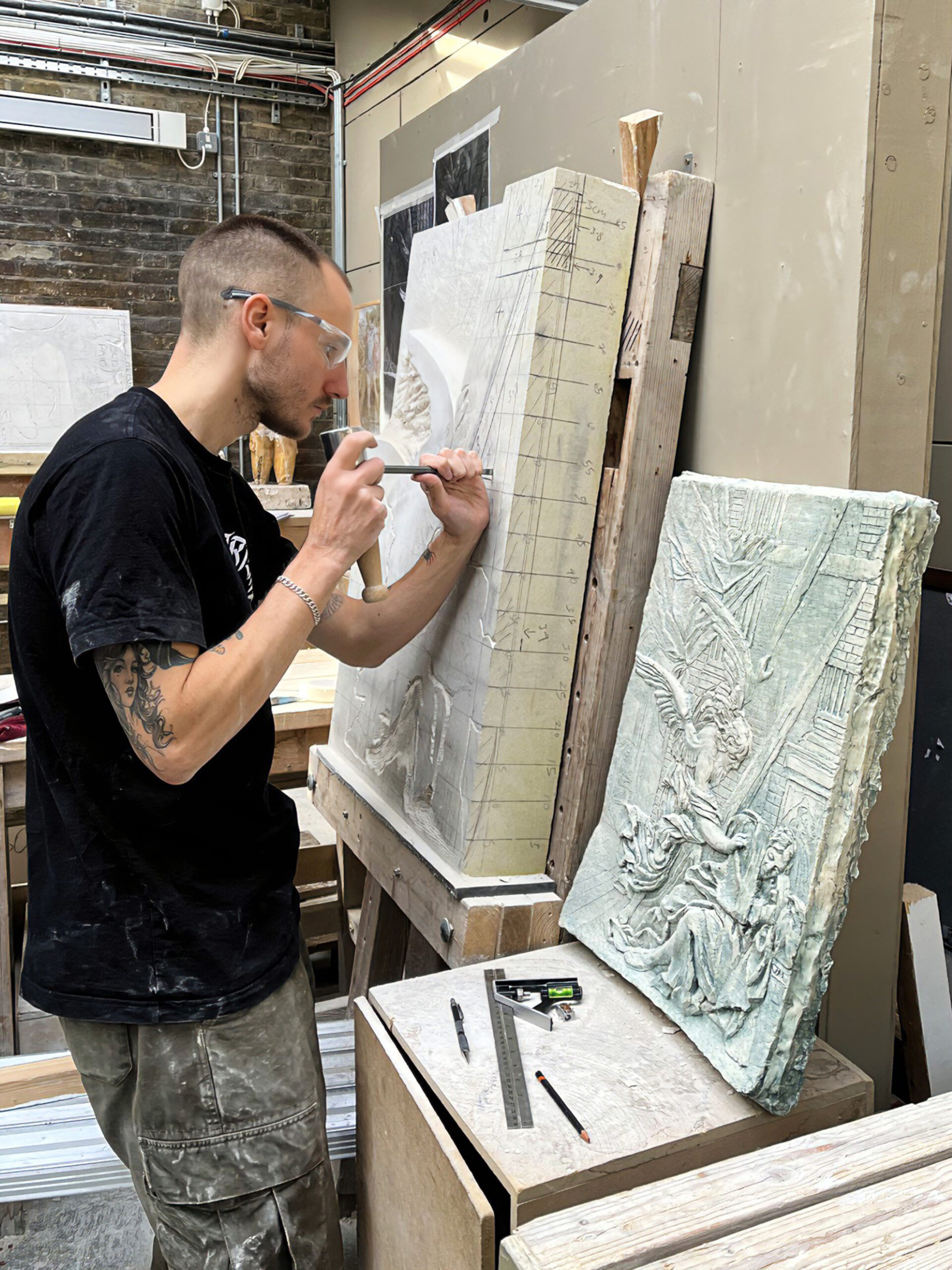 ALEXANDER WHEELDON
Third year, BA Carving: Architectural Stone
The Trustees of The Sir Denis Mahon Foundation have the great pleasure to announce the winners of the 2023/24 Sculptural Project Grant at the City & Guilds of London Art School.
Congratulations to Leigh-ann Cousins and Alexander Wheeldon!
View each recipients' individual page to check their progress.
PREVIOUS SIR DENIS MAHON SCULPTURAL PROJECT GRANT AWARDS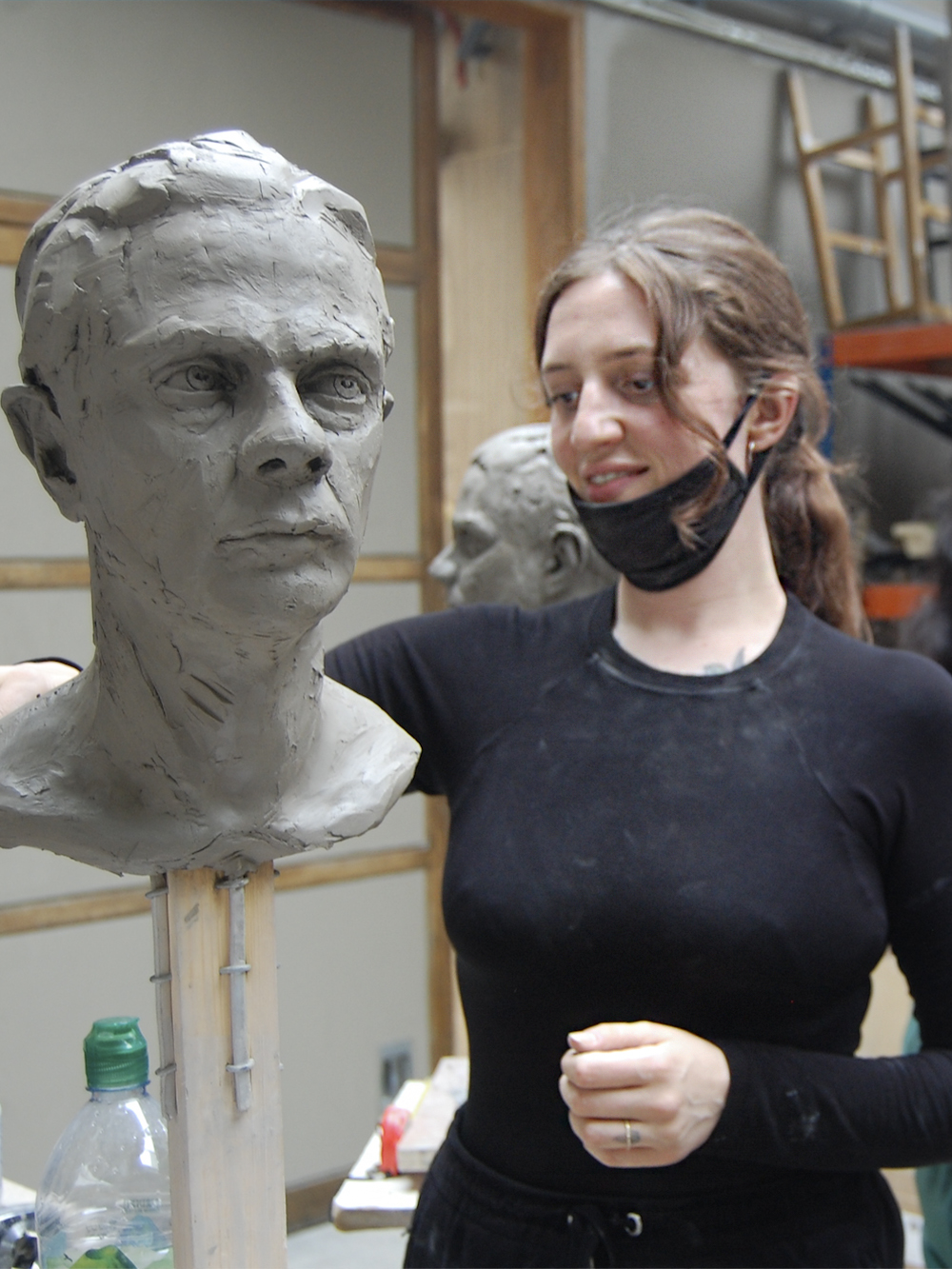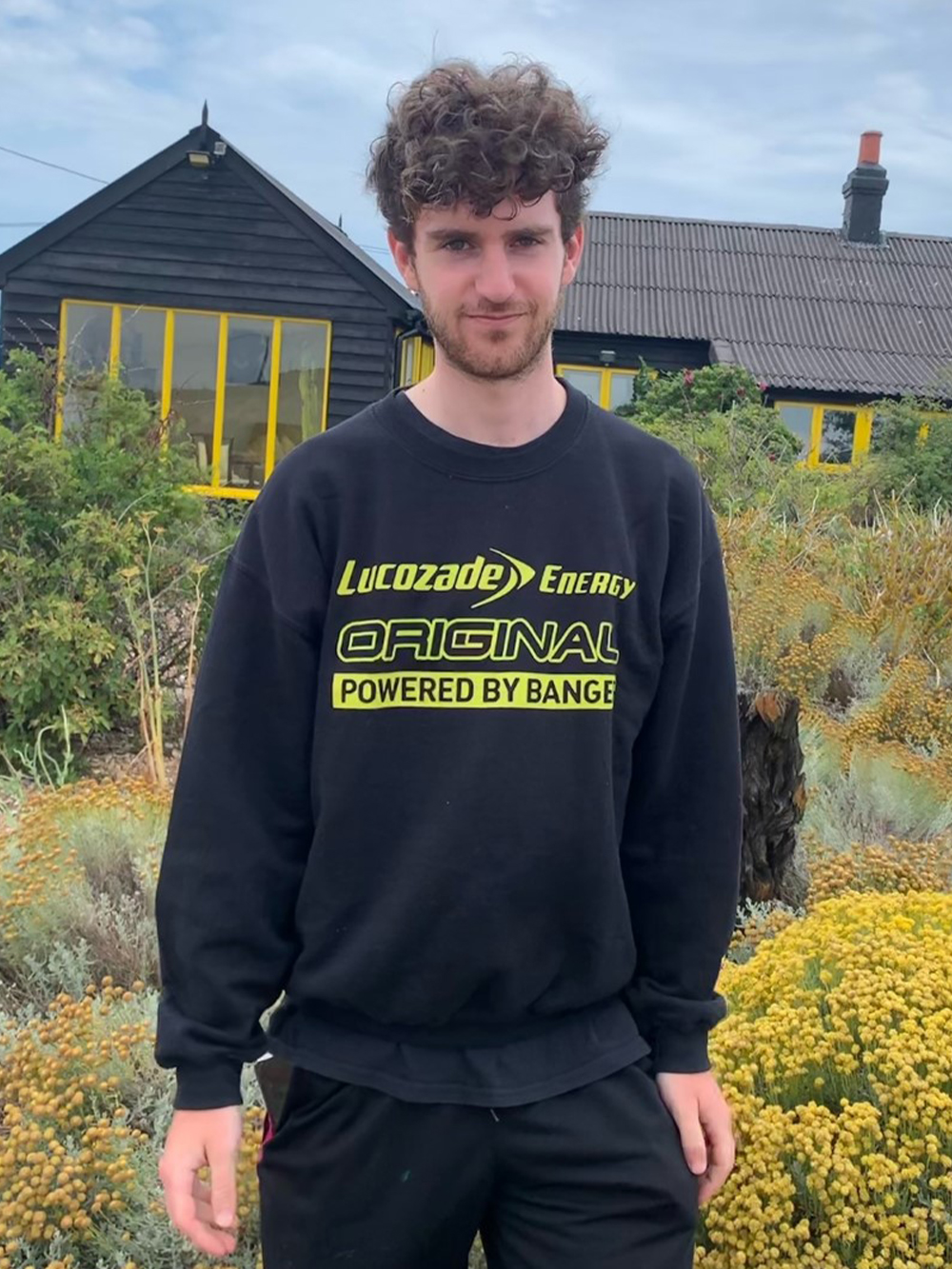 SCULPTURAL GRANT 2023-24
Winner: Alfi Biro Sidford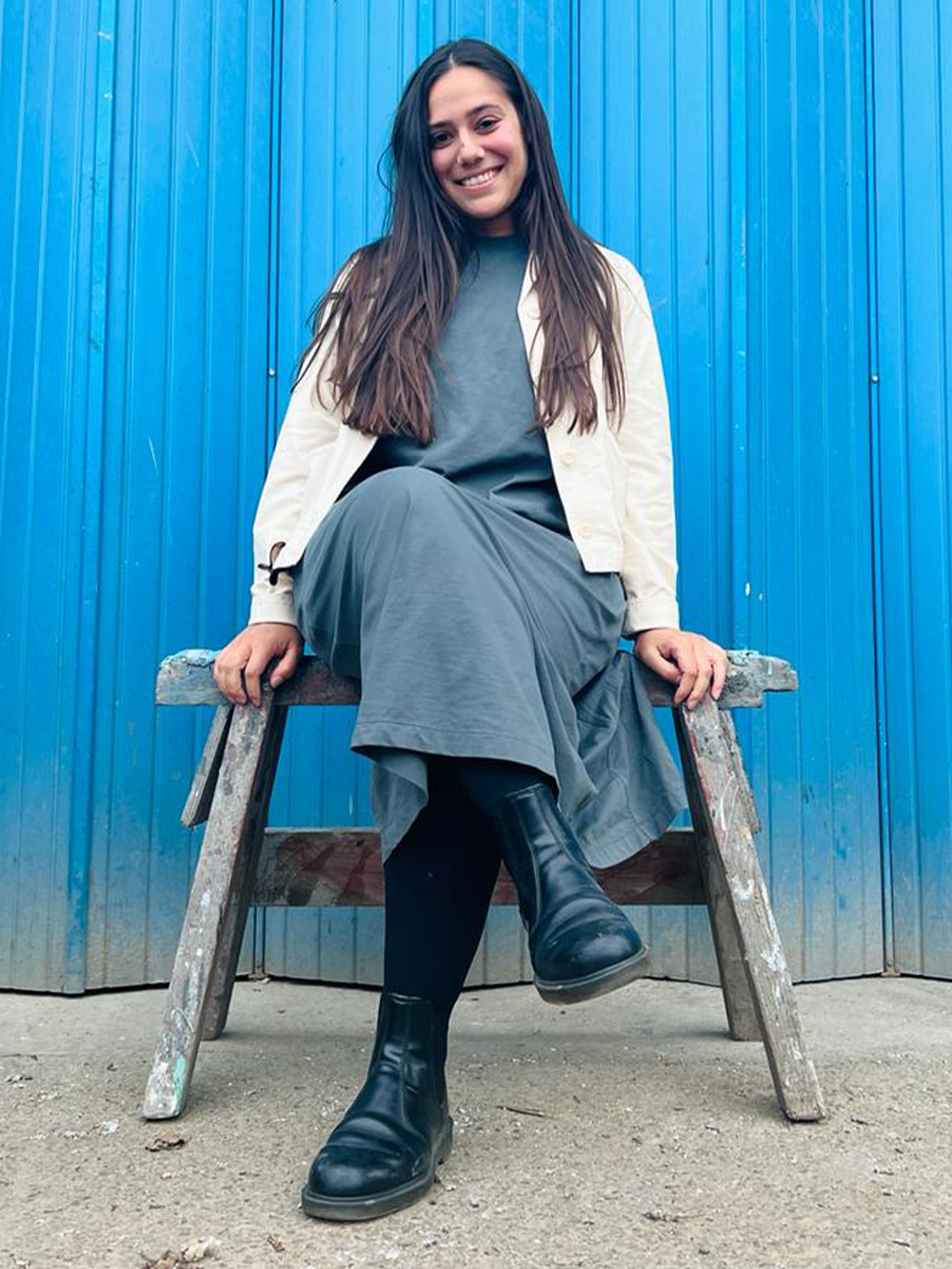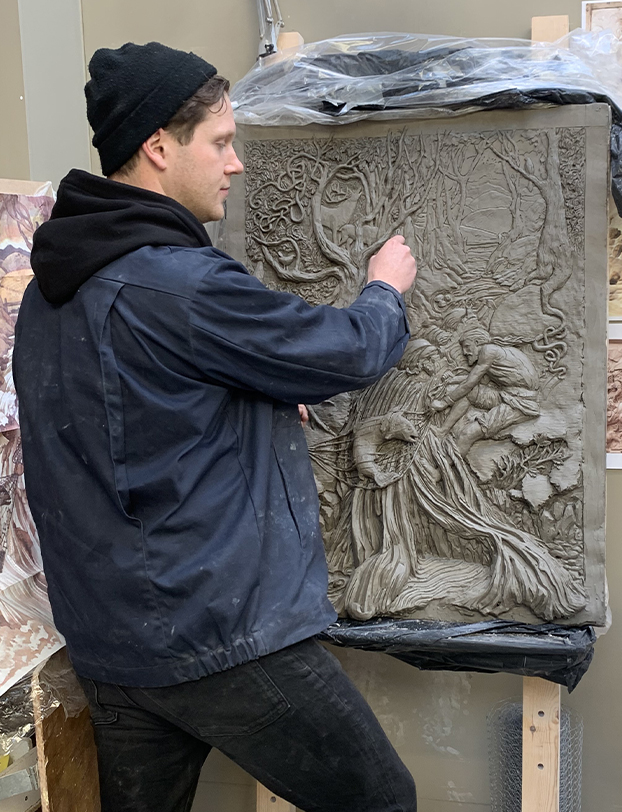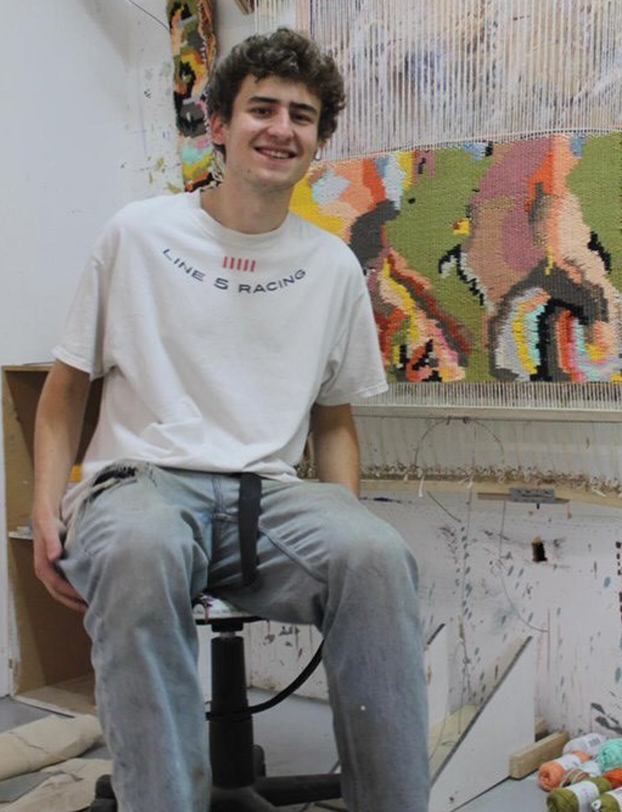 SCULPTURAL GRANT 2021-22
Winner: Robert (Bobby) Heffernan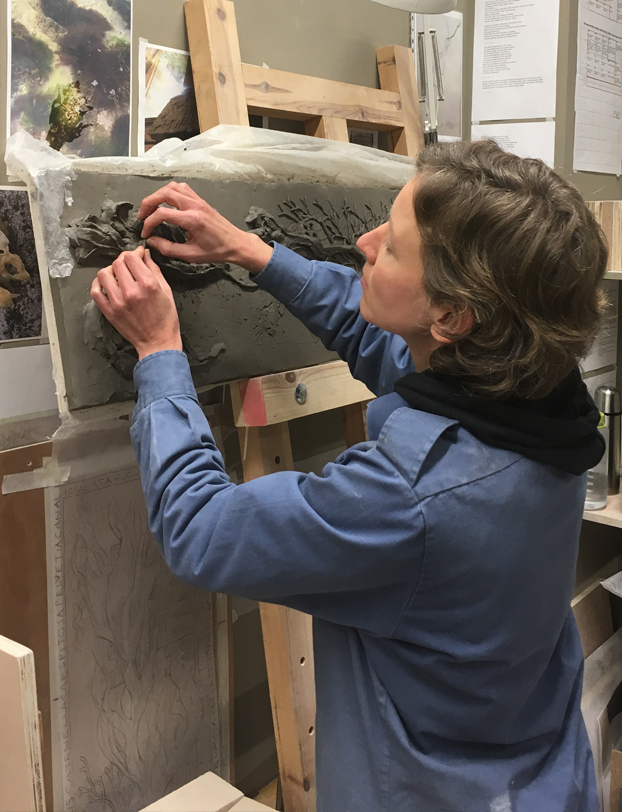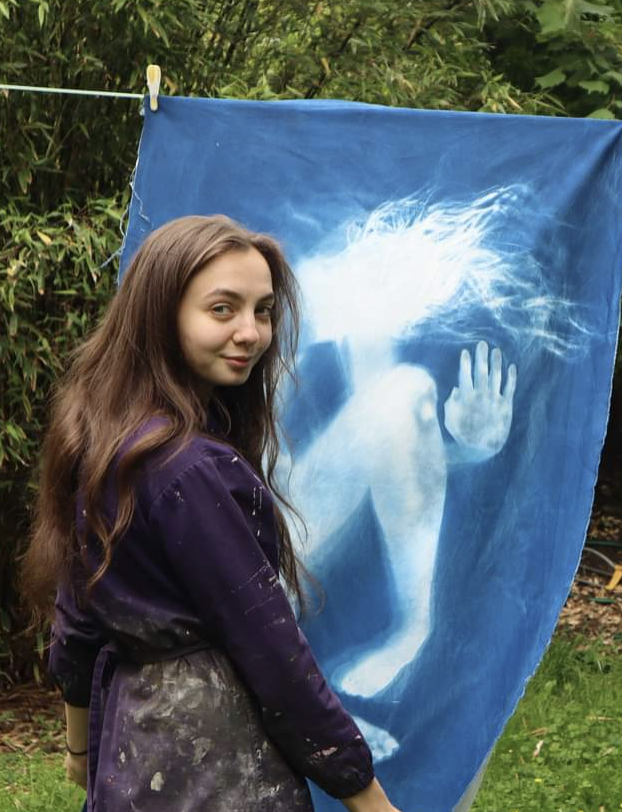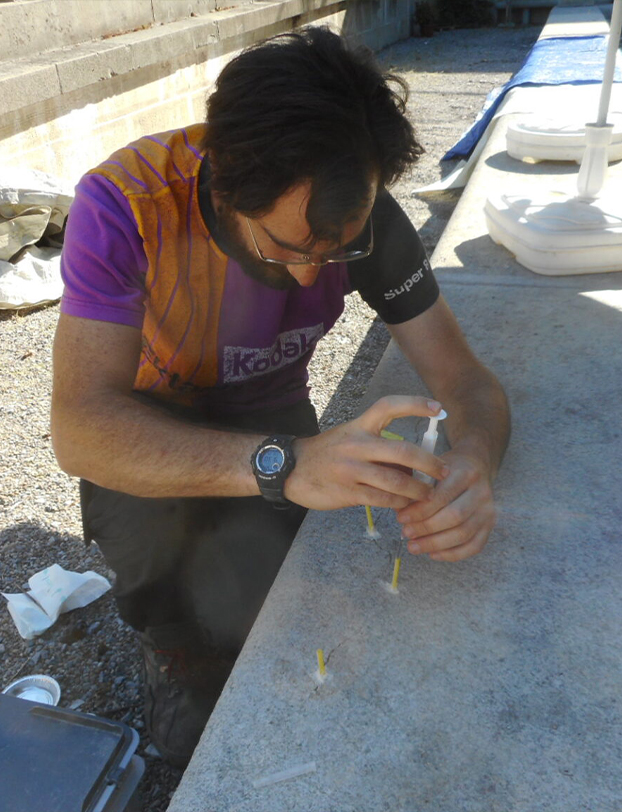 SCULPTURAL GRANT 2020-21
Winner: Johannes Wagenknecht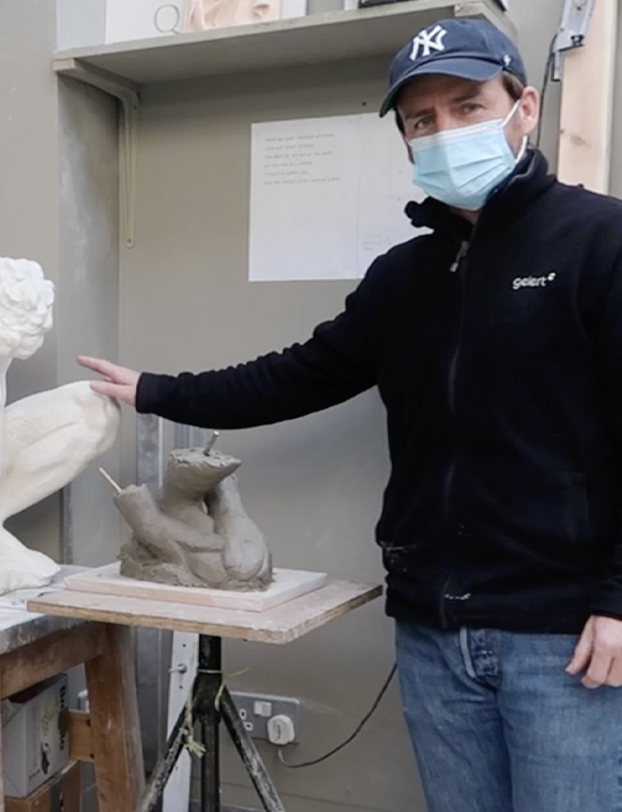 LEIGH-ANN COUSINS
Third year, BA Fine Art
"For my final project I plan to travel around UK to various natural locations, documenting, recording and collecting materials relating to the natural world to further my research into sacred geometry and the relationship between humans and nature.
While traveling I will be examining the properties of new fauna, flora and wildlife as well as collecting materials for the final project. In addition, I will create site specific works with these materials to be documented in situ and leading to them being adapted to work within an inside space. This will involve building circuits, applying code, management, and the pressing and cleaning of organic materials alongside the construction of box frames.
The work I create with nature develops throughout the experimentation with materials, therefore I do not have a prescribed design for the whole final project outcome. However, overall, I am planning to have a series of boxes that balance the human material and natural, each will have their own mechanic element consisting of either lights, movements or sound recordings.  Currently my broad plan is that one work will be constructed from sea glass in a round box that will replicate water ripple through the glass either by using motors or lights alongside code. Another is to create a box out of leaves then to have lights inside casting a silhouette of objects onto the leaves.
This support will allow me to take the research trips I need to and allow me to purchase materials to realise the final art works.
As a collector Sir Denis Mahon had a longstanding interest in the materiality of objects, and their conservation.  I feel that my works have evolved from the traditional genre of landscape, merging with contemporary possibilities of electronic kinetic elements, bringing together questions and challenges relating to the ephemeral aspects of materials from nature, and the romantic tradition of landscape and sculpture, that I hope Sir Denis would have approved of."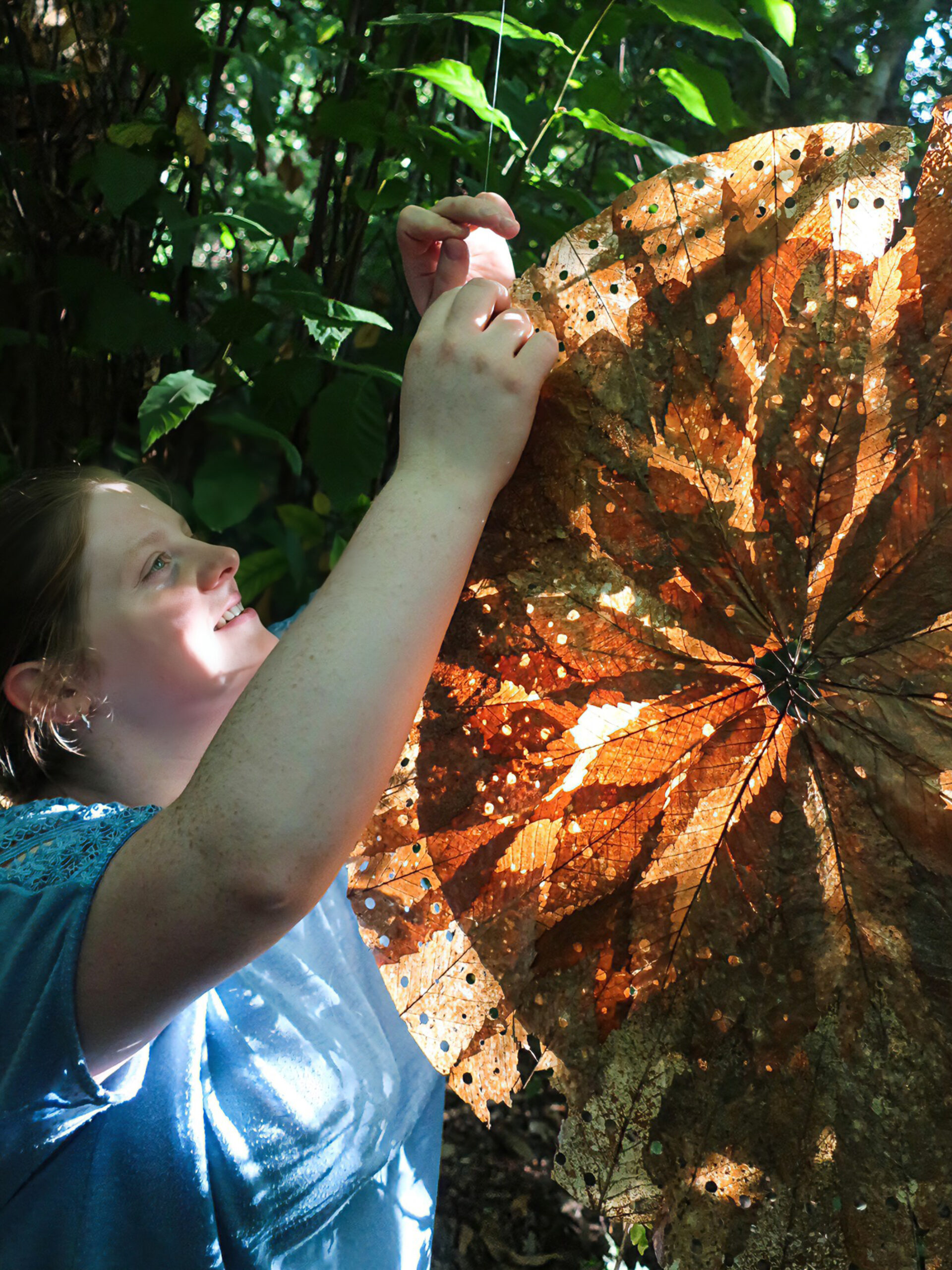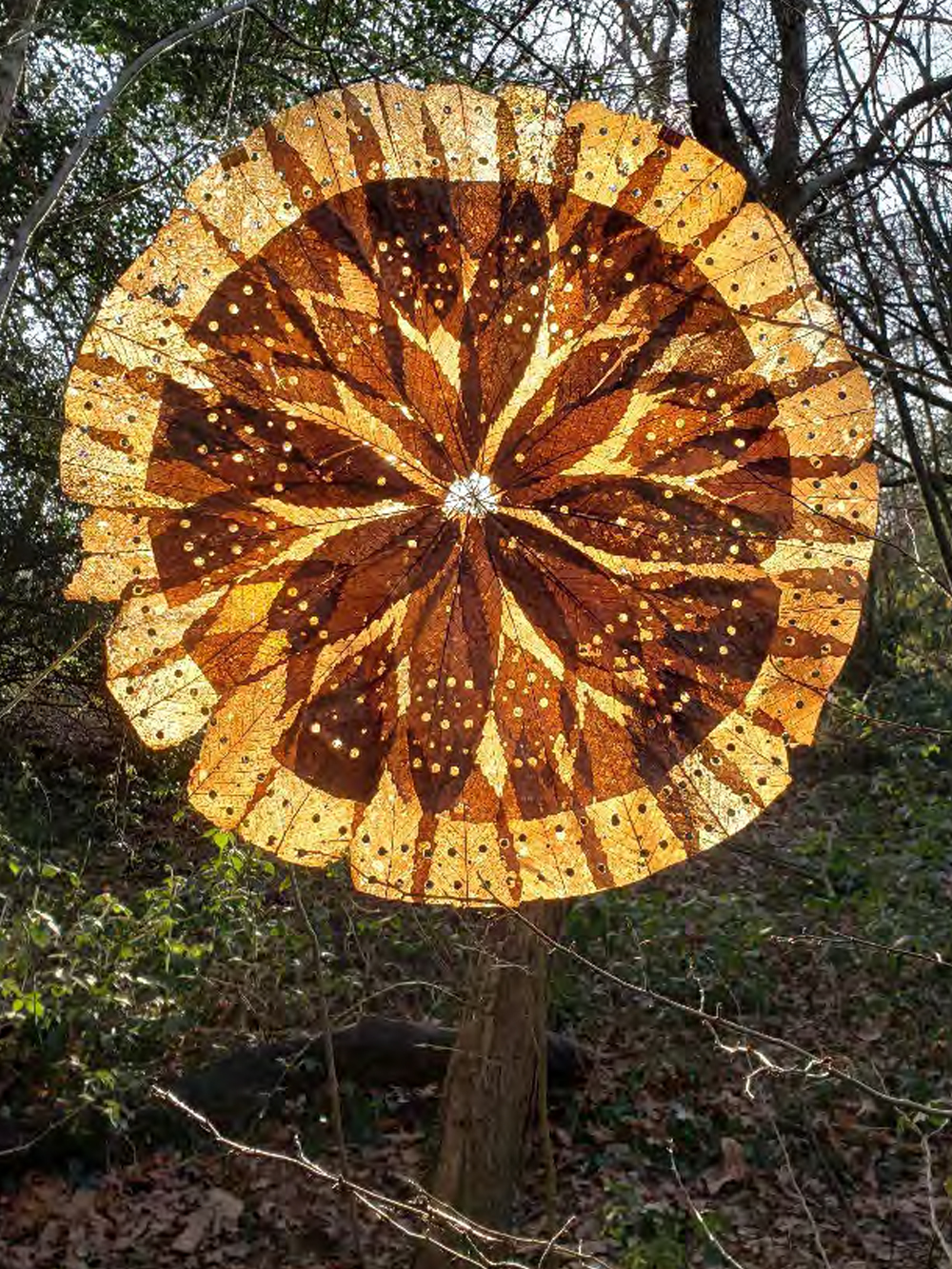 ALEXANDER WHEELDON
Third year, BA Carving: Architectural Stone
"Although it was initially the students' drawings which attracted me to City & Guilds of London Art School, it was seeing that these students were learning the traditional, practical skills, which I didn't even know still existed, that cemented my desire to apply to the Art School. I have a strong interest in learning traditional crafts the proper way, taking what was established in the past and building on it for new generations.
In my third and final year I intend to make two sculptures: One is a relief is based on an etching by Michel Dorigny, 'The Dream of Saint Joseph' that includes two figures in drapery and one a copy in the round of the classical bust known as 'Clytie' that sits in the British Museum collection. The Art School has a cast of this object that I can work from using a pointing machine.  I chose these two particular subjects as I have an interest in both drapery and the figure, both subjects I have explored in my drawing and tattooing prior to joining the Art School. Having the opportunity to carve such objects and not just produce them in a drawing is an amazing opportunity I don't want to let pass me by.  I intend to focus entirely on refining my carving technique and I look forward to making the best possible use of the expertise of my tutors in cutting and carving limestone during my last year.
I hope to gain a strong understanding of the figure and drapery, as well as a thorough foundation in limestone-cutting techniques that will serve me well in a career in carving after I leave the course.
The Sir Denis Mahon Project Grant will allow me to use the highest quality stone for each piece, which will make a huge difference in the standard of the carving. Both these pieces have fine detail, and so require a hard stone with a fine grain that will hold its shape when working these small sections.
I believe as a collector of Italian baroque paintings, Sir Denis Mahon may have had an appreciation for the kind of imagery I will be using in my final year. While not made by Italian artists, both works lean heavily on the same classical foundations as those Italians."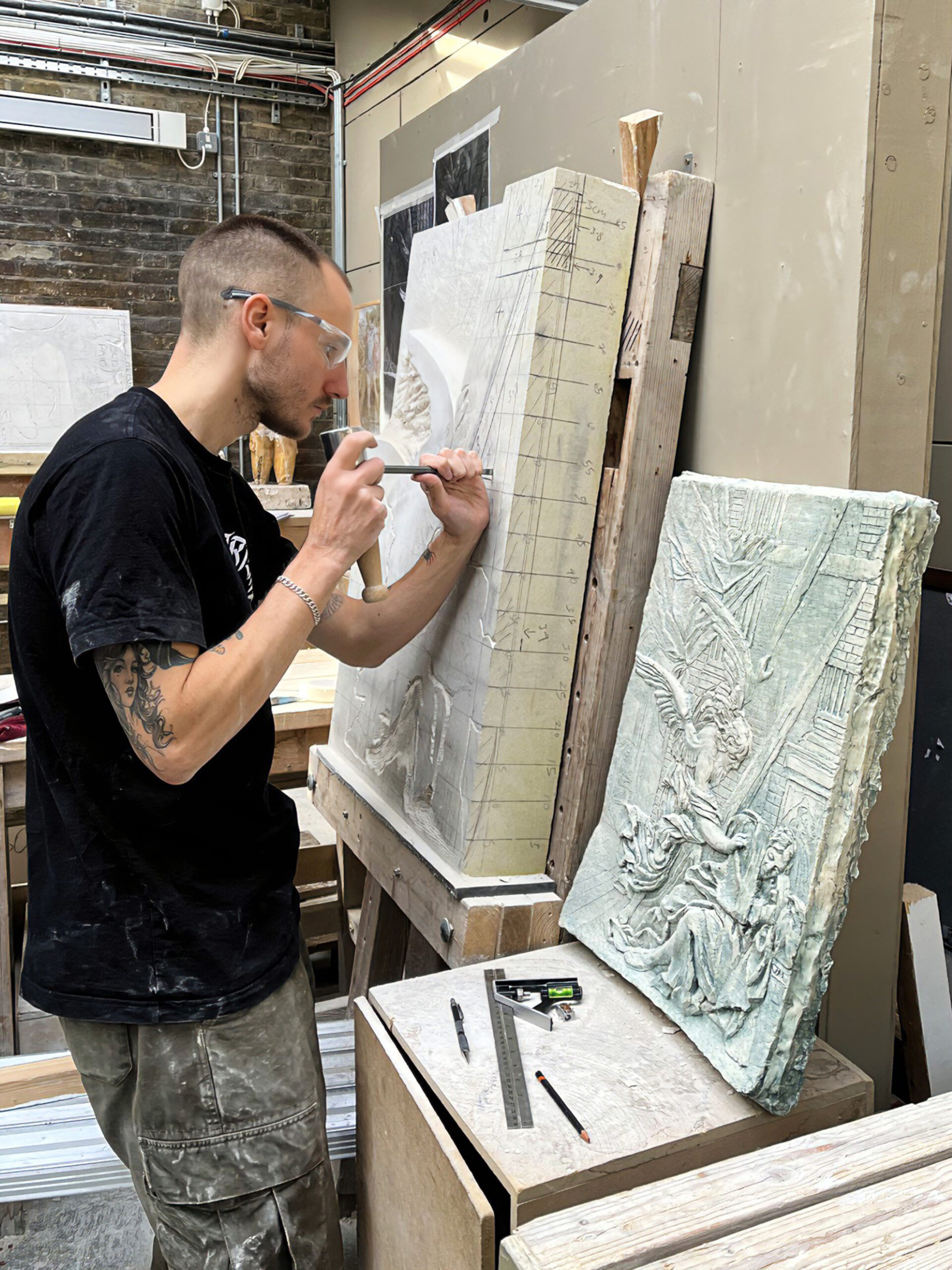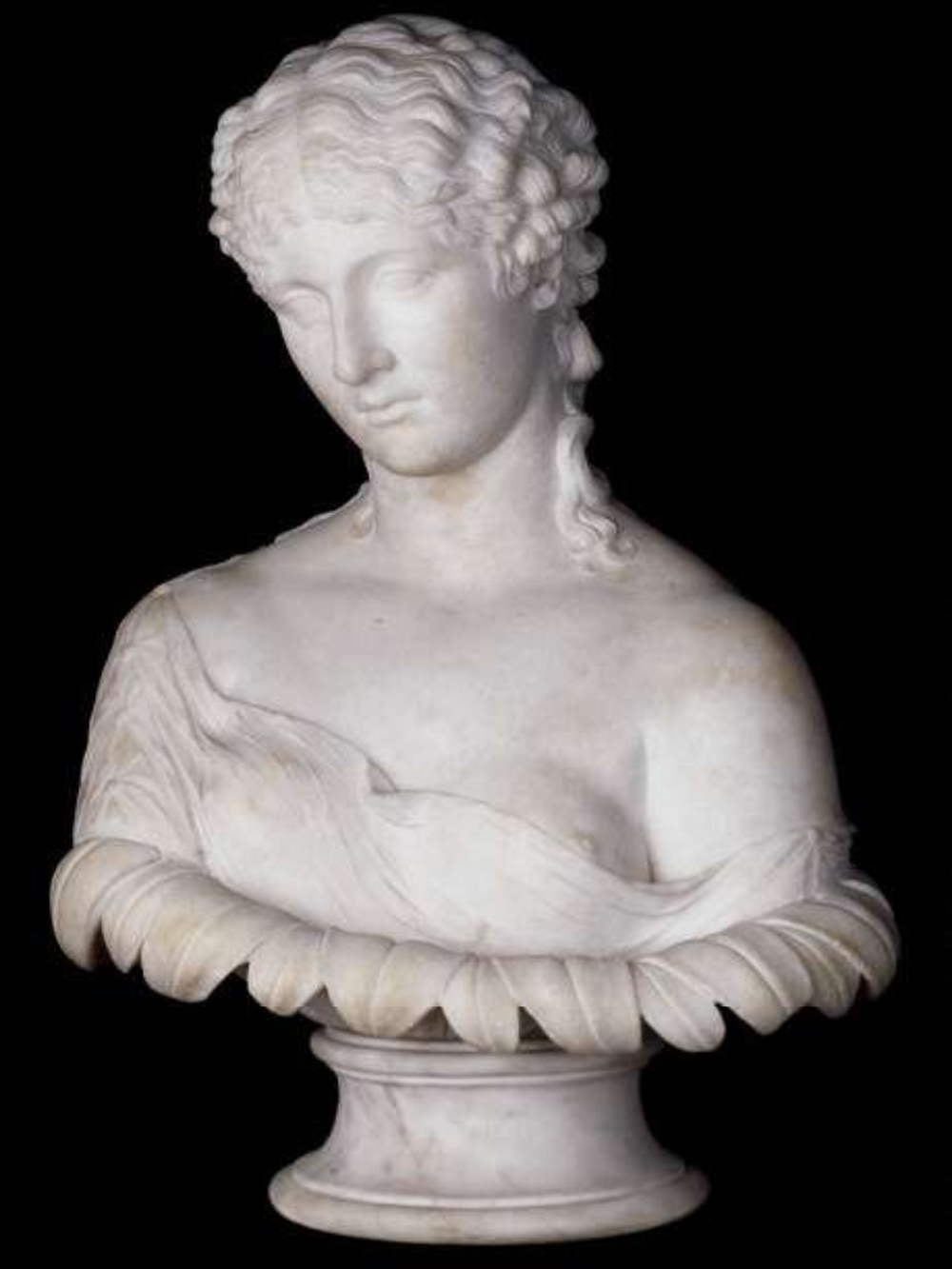 SAVANNAH DU QUERCY
BA Fine Art
Savannah du Quercy is studying for a BA in Fine Art, and plans to create a series of three bronze sculptures based on cardboard maquettes she made last year. She intends to burn the cardboard sculptures alongside the bronzes, exhibiting the final works alongside photographs of their lost precursors.
 In her own words:
'Working on this project will allow me to strengthen my practical capabilities/conceptual fluency and explore inconsistencies within presumed binaries.'
Savannah's first completed work is 'Unravelled Routes', a duologue of assemblage pieces. Found pieces of cardboard and tarpaulin are combined with paper, pastel, and photographs, as part of a series exploring modes of travel, roads, repetition, and linear vs. circular motions.
In her own words: 'The predominant material in my current sculptural output is cardboard; however, I am interested in questioning and generating a conversation around value and material while also embracing dichotomies such as soft vs. hard, found vs. made, original vs. copy and valuable vs. valueless.'
ALFIE BIRO SIDFORD
BA Fine Art
Alfie Biro Sidford is studying for a BA in Fine Art. He plans to explore his Irish heritage, through an installation encompassing folklore and his family history. He intends to make his work site specific, hanging objects in response to the studio space. He will formulate the composition of the work in the process of its creation.
 In his own words:
'The exact form of the composition will emerge through the coming together of materials with a focus on balance and stability, something that has emerged in my work since my studies into the work of Matt Calderwood.'
EMMA SHERIDAN
BA (Hons) Carving: Architectural Stone
Emma Sheridan is studying for a BA (Hons) in Carving: Architectural Stone. She plans to produce three sculptural works in the form of fantastic ornamental objects, derived from Gothic and Baroque architectural forms. The works will accompany a dissertation on literary architecture.
In her own words:
'I am interested in this exchange of architecture from reality into fiction and want to continue this exchange by taking the grotesque metamorphic ideas from gothic fiction where formal architectural features are fragmented and spaces and objects are thrown out of proportion, and from this create tangible objects.
IMOGEN LONG (Third Year BA (Hons) Historic Carving: Architectural Stone) – will carve a foliate relief sculpture of her own design. The carving is to be used as a stone lintel. The design will be reminiscent of the Romanesque style, evoking the era when the portals of churches and cathedrals were carved with messages to those who passed beneath them about the coming of the Last Judgement and, through this message, urging them to review their conduct while on earth. This theme is developed to suggest that our current conduct on earth will lead to catastrophe and flood if we do not assess and change our behaviour and relationship with the planet, not in the next lifetime but in this one. The selected foliage specimens are therefore seaweed. In terms of shape and movement, seaweeds have a beguiling range of forms to explore. Their inherent form is further enhanced by the way in which they are acted upon by the movement of tidal water.
In her own words : Through carving the lintel, I hope to create a piece that is useful and beautiful, but which also goes beyond this to mean something to those who see it. The lintel will be of a size that is functional and could therefore be incorporated into a contemporary building. If the appropriate opportunity arose, it could also be installed in an existing building.
Sir Denis Mahon took a deep and serious interest in many aspects of art and had a particular period of painting – the Italian Baroque – that became his life-long curiosity and study. At the time he became interested in it, it was not fashionable or well-researched. The Romanesque period had similarly been neglected in art history and only became the subject of scholarly study in the late 19th Century, so he would have been aware of how the fates of different eras rise and fall in the contemporary academic and cultural world. 
Sir Denis was an advocate of art being accessible for all. I hope that he would be thoroughly sympathetic to the idea of adorning buildings, rather than hidden within them. The Romanesque portal carvings are an excellent example of this. I hope that the lintel project I am undertaking would also be something Sir Denis would believe to be worthwhile.
ROBERT HEFFERNAN (Third Year BA (Hons) Fine Art) – His project will be in two stages ; the first being to make a loom, which will play a large part in his practice, allowing him to understand the mechanics of weaving, as well handcrafting the necessary tools from both wood and metal – these will be presented as works in themselves ; and the second to produce large scale tapestries, which will be based around landscapes and have a sense of the ever-changing unpredictability of nature. He will research a variety of wools at the Fairfield yarns in Rochdale to learn how to perfect and develop the colours of the wool he will use for the weavings, which will be displayed on walls beside the working loom, to immerse the audience into the process of weaving.
In his own words : Having recently travelled to Marrakech, I was immersed in the diverse culture of craftsmanship that helped me understand the cultural significance of weaving. The techniques created by Berber and Moroccan artisans have been preserved over many centuries, dating back to 1500 BC which, over the years, have infiltrated into western culture.
I want my work to hone in on and examine the exquisite masters of the past and bring those ideas to the forefront of what I do. I intend to use these techniques in my practice and further investigate my work by building a loom and weaving tools, such as bobbins and beaters, from scratch. The level of dedication and craftsmanship required will fully absorb me in the process of weaving and allow me to develop an understanding of historical traditions. I believe Sir Denis Mahon would have enjoyed the construction and my attempt to apply myself through every step of the process. I think, from an art history point of view, understanding African art and its significance in influencing western art and reflecting on those craft traditions would have been of interest to Sir Denis. Weaving is accessible globally as a craft and I'd like to contribute to promoting it further as a fine art form and I think Sir Denis Mahon would welcome this.
MORGAN EDWARDS (Third Year BA (Hons) Historic Carving: Architectural Stone) – will create a transcription relief carving from Portland limestone (96 x 74 x 20 cm.) in the Baroque high relief style, of an illustration from a Welsh fairy tale book by the late painter Margaret Jones. The image will depict a man using a net to catch a fish from a stream, surrounded by dense forest and various animals. He will render the image in a high to low relief form, executed in the style of reliefs made by Italian Baroque sculptors such as Alessandro Algardi (1598-1654) or Antonio Raggi (1624-1686). He will frame the scene with a Celtic knot-work border, in keeping with the style of other illustrations by Margaret Jones.
In his own words : I hope to challenge my current carving abilities by achieving a high-level representation of natural forms, such as the human figure, drapery, animals, water and vegetation, all in one scene. Thus achieving a greater understanding of the techniques necessary to complete the notoriously difficult 'rilevo' form of carving (relief sculpture). In this carving I hope to draw the viewer in by depicting the leaves of the trees and water from the stream spilling over the edges of the scene and onto the frame work. This would aid the creation of an 'all-encompassing' and theatrical effect, giving multiple viewing angles and reaching out into the surrounding space, which is essentially the definition of the Baroque style.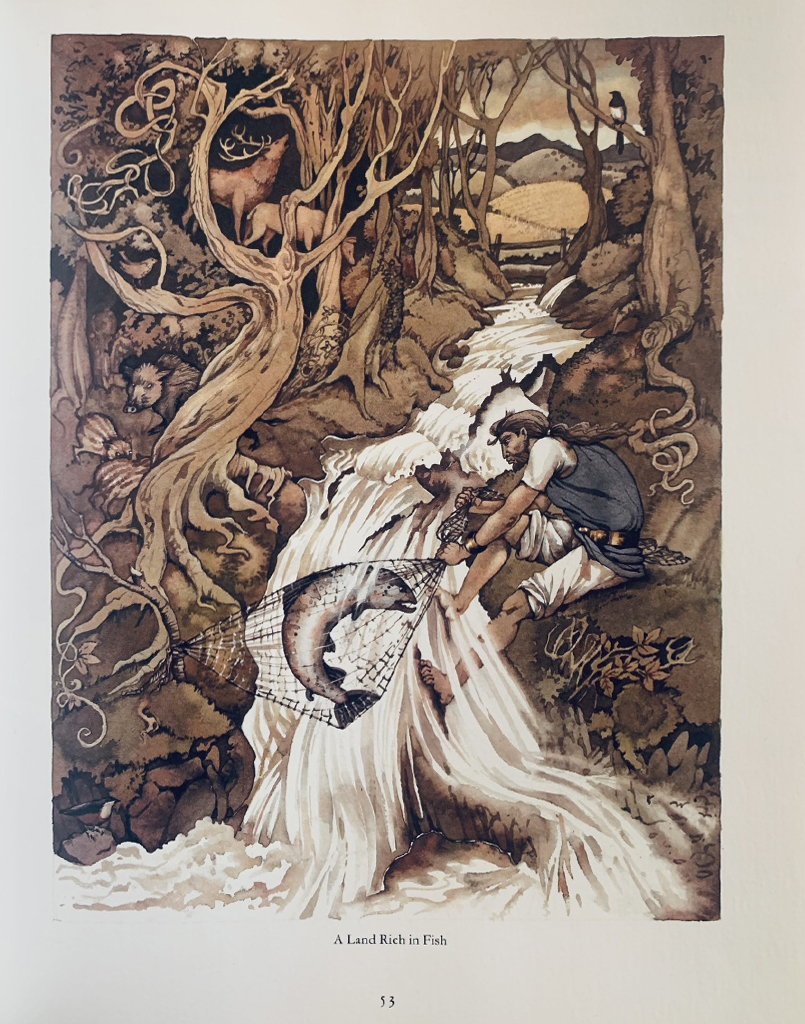 Painting by Margaret Jones from the book, "The Mabinogion" by Gwyn Thomas & Kevin Crossley-Holland, 1984
ROISIN FRANCIS  (BA (Hons) Fine Art) – will create three sculptures composing of two sets of cast fragments of a female figure, one in mirrored glass and the other in powdered glass (pâte de verre). They will be accompanied by a small section of wall covered in a heat sensitive material. The wall will allow an interactive element as viewers can touch/lean on the wall, leaving imprints from their body heat, "creating a sort of heat mirror to compliment the mirrored surface of one of the sculptures".
In her own words : I am trying to remind people of the unseen and intangible, and to consider the limits of the human perception of the world. As well as highlighting the fragility of the human body, allowing people to literally see themselves reflected back in one of the most fragile materials … Temporal, I try to capture a time out of time, moments between events, which is captured in a fleeting reflection. I feel it is an important piece of work that should exist in the world, which is why I make all of my work.
It is very clear from all that is said/written about Sir Denis Mahon, that he was very keen to make art accessible to all … Having an interactive piece of art also encourages engagement from a wider audience, increasing accessibility to the work. In terms of artists, Giorgio Morandi's use of depicting objects as pure form has already been an inspiration in my casting work. Particularly with casting, objects become a washed-out ghost of what they once were, stripped of their essential qualities of colour and material. Creating distance from the original object, which Morandi does perfectly in paint.
JOHANNES WAGENKNECHT (MA Conservation) – he will examine and work on an early concrete sculpture from 1834, the "Dog of Alcibiades", which is currently at Chatsworth House. It was a popular garden sculpture in 18th and 19th Century Britain and is based on a Roman marble sculpture from the 2nd Century ACE, which is currently in the British Museum. Austin & Seeley produced these dogs in an early form of Portland cement and Roman cement. The project will involve examination, documentation and practical conservation of the garden sculpture.
In his own words : With the support of the grant, I will be able to work as closely as possible to the professional standard in concrete heritage preservation.
This project is an opportunity to further investigate early forms of concrete and the industry in late 18th and early 19th Century Britain. Concrete conservation will be vital in the future as most of the buildings and sculptures made a hundred and more years ago reach the end of their service life. To be able to care for our cultural heritage, we need to properly understand the material science involved with concrete. This will enable us to come up with appropriate solutions for complex conservation problems. I hope to be able to add to the body of research in this area.
At first, it might seem that early Portland cement has little to do with the Baroque, Renaissance Italy and fine art. Of course, this is not the case as the subject of this grant illustrates. The concrete dog is based on a Roman sculpture from the 2nd Century ACE, which is very likely a copy itself from a Greek sculpture. Looking at the 20th Century, we find that Henry Moore experimented with concrete in the 1920s and 1930s, making a total of twenty concrete sculptures. This was at a time when the material was still mainly used for building works. It is evident how important this material was for the architectural developments of the 19th and 20th centuries on a global scale.
I think that Sir Denis Mahon would agree that the British concrete industry is worth investigating for its national and global contribution, as it influences all aspects of life as we know it.
The grant will allow me to work according to the professional standard in the conservation field. Furthermore, the investigation of historical concrete is by no means completed and there is still a lot of unknowns regarding this material. New information about fabrication and materials used in the early concrete industry might emerge during this investigative project.
I came into the conservation field through my fine art background. Through work experience and the past two years in the art school, I have further developed my conservation skills and knowledge. In my final year, I want to focus on concrete as I know it is an expanding sector in the conservation world. Apart from that, the material itself has impacted life drastically in the last two centuries with the rapid expansion of the concrete industry. This material and its cultural impact will be felt positively and negatively by future generations. Apart from the material science involved, I am interested in the cultural developments orbiting the concrete industry.
DAN RUSSELL (BA (Hons) Historic Carving: Architectural Stone) – will carve a life-size abstract figure in stone, focusing on drapery, inspired by and depicting the personal protection equipment of the NHS. To achieve this, he will design the PPE drapes into the required figurative form on ply-board. This will be held with nails and a cloth fixative to enable him to then use this life-size arrangement as a model. He will then carve this arrangement in stone.
The stone drapery will be the PPE (scrubs) garments that nurses and doctors wear, and a mask will be used as the slumped head. This will be formed into the shape of the dying Christ to represent the sacrifice that medical staff have made to help others. This artwork will show an abstract human figure, mixed with the realism of draped clothing, which will act as a memorial to Covid-19 sufferers and the heroes who have fought the virus.
In his own words : My inspiration for this project are the doctors, nurses and care staff who have been on the front line of the Covid-19 outbreak.
I believe that my proposed design has many characteristics and elements relating to the interests of Sir Denis Mahon, who is known for his knowledge of history and his collection of Italian Baroque paintings, including masterpieces by Guido Reni, Guercino and Luca Giordano. A running theme in all of these Baroque artists' paintings is the use of drapery. Such an example in his collection is the detailed oil study of a group of twelve that Giordano made in preparation for the ceiling frescoes in the Palazzo Medici Riccardi in Florence in 1682-85. The overall theme of these highly elaborate showpiece frescoes is the progress of mankind by means of Wisdom and Virtue.
My drapery carving will represent the ongoing virtues of the NHS staff, despite the failure in wisdom from our world leaders. Like many of the Baroque paintings in Sir Denis Mahon's collection, my carving will contain biblical imagery. It is by no means meant to be a religious carving, but one marking sacrifice and honour. Also, Sir Denis had an interest in the abstract as suggested through his friendships with Henry Moore and Eduardo Paolozzi.
For the past two years, I've thoroughly immersed myself in the Art School, and have been the proud recipient of "The Masons Company Prize for Studentship and Commitment" ; a "Knights of the Round Table" award winner and a "British Arts Medal Society" award winner.
Dan has completed carving his life-size abstract figure in Portland stone, which he has named "The Last Shift", in time for his graduation from City & Guilds of London Art School, where the work will be shown in this year's Degree Show, between 18-22 August 2021.
 In his own words : A huge thank-you to the Sir Denis Mahon Foundation for their Sculptural Project Grant Award, which has enabled me to be ambitious with materials for the work.