THE SIR DENIS MAHON AWARD at the Royal Drawing School
DEANIO X is the recipient of The Sir Denis Mahon Award 2020-2021.
Deanio X is a London-based artist who graduated from the University of Kent with a degree in American Studies (History & Literature). Having travelled widely across five different continents, his work expresses political and often controversial themes around identity which examine his journey and the history of his lineage through his art.
He has sought to create visual narratives built from his research, observational drawing and imagination to stretch conceptualisations of popular history. Interested in redefining tales that surround the contemporary experience of Africans in Europe and beyond, Deanio accepted a scholarship to the Royal Drawing School in 2018 to build on his self-developed practice and to further explore the transformative potential of visual art.
In the summer of 2020, Deanio created a new mural installation to the Stay Strong Route in the gallery of The Royal Drawing School, Shoreditch, designed to spread a message of support to the community of people working and living in the local area and to welcome back students and tutors and the School's studio after a six-month closure.
Also in 2020, Deanio completed an exciting project with the BLKBRD Collective, which was commissioned by the Royal Museums, Greenwich, to curate an artist-led takeover to support the re-opening of their sites following lockdown, which can be seen on his website. The sail, called Ghost Meridian, addresses the generational experiences of migrants in a historic and contemporary British environment.
This project is also highlighted on Deanio's website, in the online gallery, Fresh Off the Boats, which honours the sacrifices of migrants to Britain today and throughout time. The mixed media works in this gallery explore the legacies of migration over the seas via original paintings, GIF footage and photography, from the transatlantic slave trade to the contemporary refugee crisis, the Windrush scandal, to the disproportionate BAME death toll for Covid-19. Further recent and current work can be seen at Deanio's website.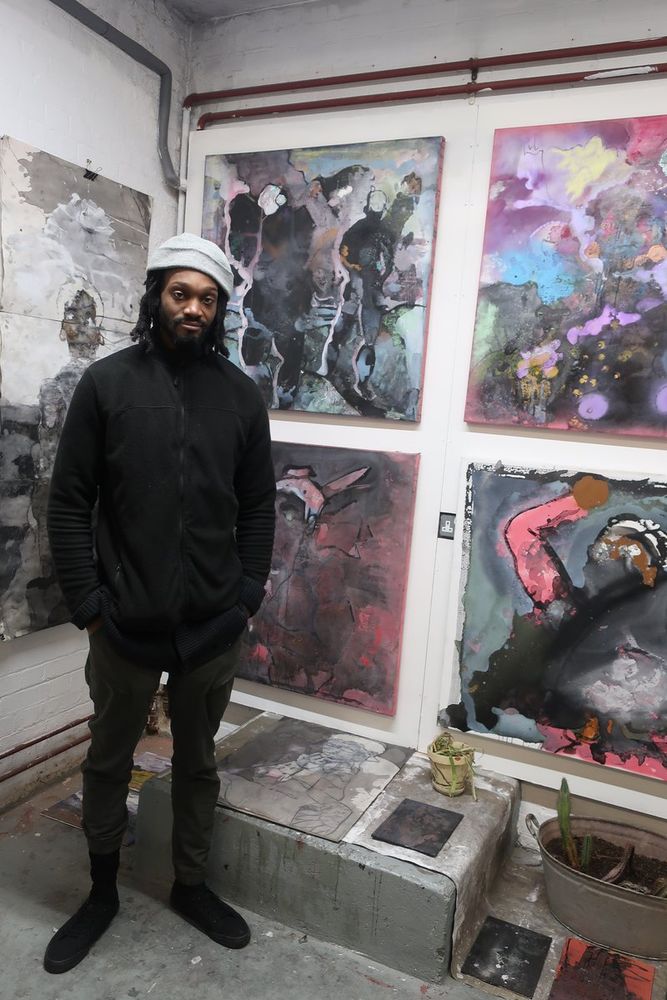 THE MAHON AWARD EXHIBITION AT BRITISH MUSEUM
8 November 2018